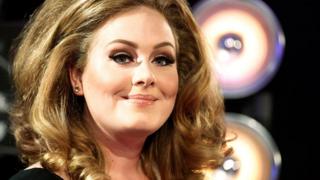 Reuters
Adele has confirmed her new album will be called 25, and says the music will focus on her journey to adulthood.
It follows the singer's pattern of naming her albums after her age: Her debut was titled 19 and the follow-up was called 21.
The singer wrote in a statement: "25 is about getting to know who I've become without realising. And I'm sorry it took so long but, you know, life happened."
There is no release date for the star's new album at the moment, but several media reports have pointed towards 20 November as the likely day.
A preview of the album appeared without warning on Sunday night, during an advertising break on The X Factor.
The 30-second clip featured the star's voice along with the song's words on an otherwise black screen.
At the time, her spokespeople refused to confirm whether or not the material was actually by the singer.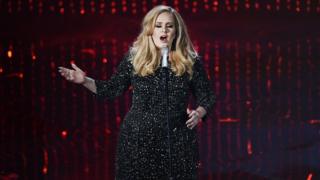 Getty Images
Adele's last album 21, which contained the mega-hit Someone Like You, is the biggest-selling album of the 21st Century, selling more than 30 million copies worldwide.
It shifted 4.75 million copies in the UK alone, making it the fourth best-selling album of all time.