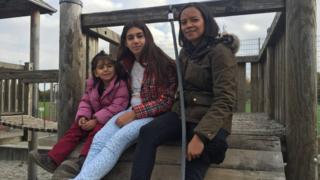 Romina, 11, tells Leah about her new life in Germany
Thousands of migrants and refugees have been travelling to Europe in the last few months.
Many have come from countries affected by war such as Syria, Afghanistan and Eritrea.
Leah is in Germany this week and has been to meet some of the families living in shelters in Munich.
She has met one 11-year-old called Romina from Afghanistan, who's been living in Germany for the past year.
Romina's family first travelled to Iran, but then they walked to Turkey.
From there they made the dangerous journey to the Greek island of Lesbos on a small boat with more than 40 other people.
They were taken to Athens by ferry and from there, they travelled to Macedonia and stayed in the woods for 13 days.
They then made their way to Austria, via Serbia and Hungary, before arriving in Germany by car.
Her family are now waiting to find out if they have permission to stay in Germany and Romina hopes she'll be able to settle in Munich.