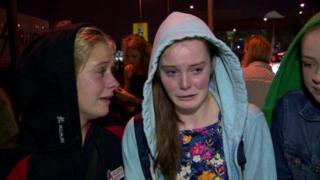 Fans upset over 1D cancelled concert
One Direction fans say they're frustrated and upset that the band cancelled their concert in Northern Ireland just a few minutes before they were due on stage last night.
The band said Liam Payne became sick and could not go on stage.
It was supposed to be the first of three gigs at the SSE Arena in Belfast on Tuesday.
Many fans started booing when they were told to leave.
"Hundreds" of girls and women left the arena crying.
Fans have been asked to hold on to their tickets and wait for further information, with a statement expected on later today.