One Direction have announced that a concert they cancelled at the last minute in Belfast on Tuesday will now take place on Friday, and two other concerts in the city will go ahead as planned.
Harry Styles said the band was "very sorry" for cancelling Tuesday's show in Northern Ireland.
Fans were already inside the city's SSE Arena when the gig was pulled at 9pm after singer Liam Payne fell ill.
The audience booed as staff told them to leave the arena with one person saying "hundreds" of girls and women were left crying.
Concert promoter Aiken PR said at the time: "The show tonight has been cancelled as Liam has taken ill, and whilst not serious, he is unable to perform tonight."
And in another statement on Wednesday, the promoter said sorry for the cancellation.
That show has been moved to Friday and original tickets will be accepted.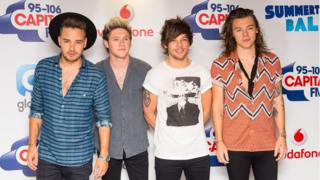 PA
"We thank everyone for their understanding and their good wishes to Liam," it added.
Fans unable to attend Friday's concert have been told they will get their money back.
In a statement, the band, who are on a final tour before taking their first break next year since forming on X Factor in 2010, apologised to their fans.
Harry Styles wrote on Twitter: "Deepest apologies to everyone at the show tonight in Belfast. Very disappointed, but unfortunately these things happen. We're very sorry."
Band mate Louis Tomlinson tweeted: "We're so so sorry for what happened tonight, it was out of our control! Lots of love to Liam and thank you for being so understanding!"
It was the first time in the band's five-year career that they had been forced to cancel a show.
Previously, members had filled in for each other when one of them had fallen ill.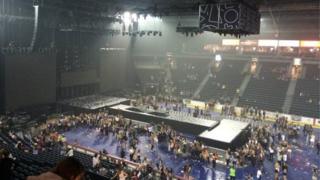 Darran Marshall/BBC
Audience members had already gathered inside the concert venue, and had listened to the band's support act, before the cancellation announcement was made.
Michael Green, who took his six-year-old daughter to the show, told the BBC he was "disgusted" at how fans had been treated.
He described how he had to make his way out of the arena past "hundreds and hundreds" of weeping young girls and women.