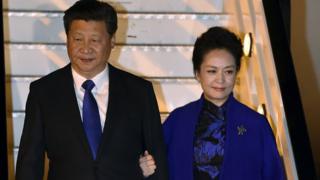 Reuters
Members of the Royal Family and politicians are due to greet China's President Xi Jinping at the start of his four-day state visit to the UK.
He and his wife, Peng Liyuan, will take part in a parade down the Mall in London to Buckingham Palace later, ahead of a state banquet held by the Queen.
The trip is the first UK state visit by a Chinese leader since 2005 with officials from both countries hoping to build closer relations.

Reuters

Reuters
Amnesty International and other groups have announced their intention to hold protests during the visit over human rights issues in China.
It is also expected that there will also be a pro-China rally.