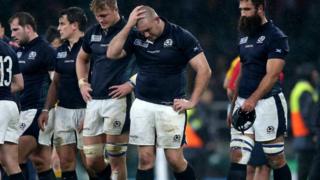 Getty Images
After a weekend of quarter-final matches, Scotland, Wales and Ireland are all out of the Rugby World Cup.
On Sunday Scotland suffered a devastating loss as Australia won the quarter-final 35-34.
And Argentina's early scoring blitz helped them dash Ireland's hopes with the match ending 20-43 to Argentina.
On Saturday Wales were knocked out of Rugby World Cup by South Africa 23-19.
Which teams are through to the semi-finals?
Both semi-finals will take place next weekend.
South Africa will play New Zealand on Saturday 24 October.
Argentina will play Australia on Sunday 25 October.