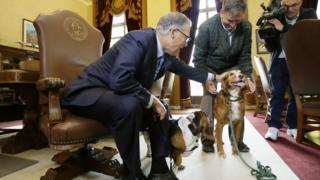 AP
A dog who stood guard to protect another dog has been given an award for his bravery.
Tillie, a setter-spaniel mix, stood in the same spot for nearly a week waiting for help as her basset hound friend Phoebe had fallen into a well.
Washington state governor Jay Inslee named Tillie the Washingtonian of the Day for her actions.
She was given a pin on a ribbon to wear around her neck.
The dogs owner BJ Duft said he was really worried when both dogs seemed to be missing.
He said he was ecstatic when they were found.
"It really made me think a lot about their friendship and Tillie's commitment to her companion, that's for sure," he said.
Duft said the dogs were enjoying their newfound fame and now wear GPS collars so he knows where they are.