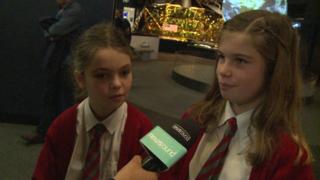 Plan to get people working in space
A new scheme by the UK Space Agency is hoping to inspire kids to follow in the footsteps of astronaut Tim Peake.
As well as learning more about Tim Peake's mission to the International Space Station, Destination Space aims to get people interested in all the different jobs involved in space exploration.
Some of the jobs include an engineer, who helps to build rockets and other space equipment, or a scientist who looks at the research sent back from space.
This chat page is now closed. Thanks for sending in your comments.
I might be a engineer.
Olivia, 9, England
I would definitely be an astronaut because astronauts have the opportunity to see the wonders of the solar system which I find very lucky.
Arwa, Sheffield, England
I would like to cook all of the food in space.
Jessica, London, England
I would like to be an engineer on the ground because I would like to be an engineer in the future.
Stephanie