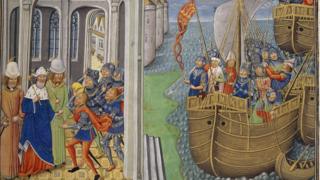 British Library/Historic England
A wreck has been spotted in an English river which could be a 600-year-old ship which was used by Henry V as part of his royal fleet.
It's thought that the shipwreck buried in mud is the Holigost or Holy Ghost - the second of four great ships built for the king.
It was spotted in the River Hamble in Hampshire by a historian looking at an aerial photograph.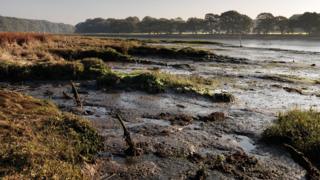 Historic England
Now Historic England is going to protect the area.
They say they'll be fully investigating the wreck using drones and sonar equipment to find out what is there.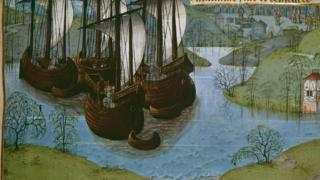 Historic England
The research will help to show how people lived and worked on ships in the 15th century.
The Holigost had a crew of 200 sailors and took lots of soldiers to war. It was mainly used in battles against France.