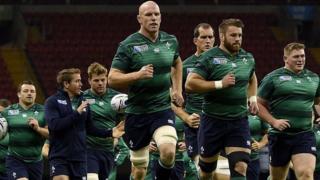 Ireland get ready to play France
Ireland will be playing against France in their last group stage match in the Rugby World Cup.
Both teams are already through to the quarter-final stages of the tournament, but the results of the match will decide who each team plays next.
If Ireland win they'll play Argentina in their quarter-final match but if they lose, they'll come face to face with New Zealand.
Martin's been in Cardiff, where the game will take place, and has been chatting to some Ireland fans....