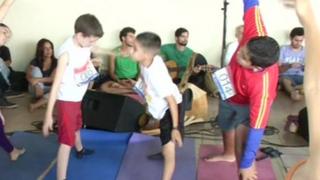 Yoga helping kids in Venezuela
Thousands of children in poor parts of Venezuela in South America are being taught yoga to help improve the quality of their lives.
People living there have to deal with lots of problems such as poverty and crime.
But it's hoped practising yoga can help reduce their stress and increase their happiness.
Watch Martin's report to hear how yoga has been helping the children...