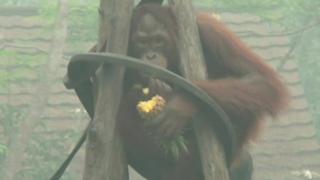 Concern for orangutans in Indonesia
Forest fires in Indonesia are causing concern for the safety of hundreds of orangutans that live there.
The fires have been burning across the country in south-east Asia for weeks and the special rehabilitation centres where the orangutans live are under threat.
The orangutans get food and medical care from teams at the centres and can't just be moved to a different part of the forest. It needs to be a specially protected area.
Teams looking after the animals are working hard to find new homes and are confident they'll find them soon.
Watch Martin's report to find out more...