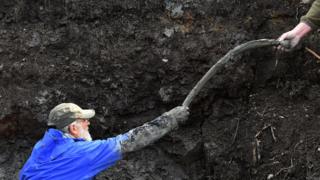 AP
Bones from an ancient woolly mammoth have been found on a farm in Michigan in America.
The discovery was made by Jim Bristle while he was doing building work on his land.
"We were putting in a drain system for a drain tile - wasn't thinking about digging up any bones," said Jim.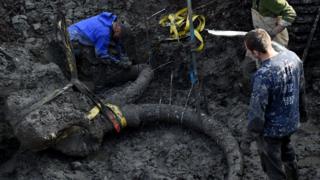 AP
Scientists from the University of Michigan and a special digger have now uncovered about 20 percent of the creature's skeleton.
They found the skull and two tusks, along with a number of vertebrae, ribs and both shoulder blades.
It's thought the animal may have lived around 10,000 years ago.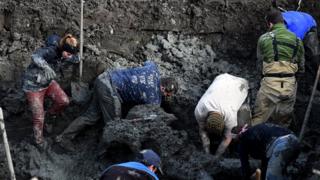 AP
Hundreds of people have been to visit the farm to see the massive mammoth's excavation.
Jim said: "I'm just so glad to see the enthusiasm, and it's not just from the kids, the adults who come out here are overwhelmed by this. I guess I'm a bit overwhelmed by it also.''
''They got to touch it. The kids were excited. We had one lady yesterday who went and got her granddaughter out of school,'' he added.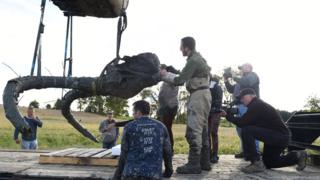 AP
The bones are being donated to a museum in America, where they'll be cleaned, studied and put on display.
''I felt that it was to share because it could change the history books we're finding out now,'' said Jim.