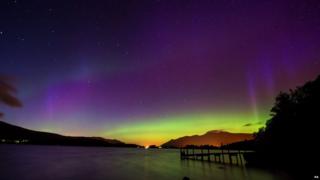 PA
The Aurora Borealis, known as the Northern Lights, has been glowing brightly over parts of the UK.
The dazzling light show is caused by the interaction of charged particles and the Earth's magnetic field and atmosphere.
Don't worry if you missed it, there will be chances to see it again later this month.
But, if you were lucky enough to catch the incredible display we want to hear from you...

Send your pictures to newsroundpix@bbc.co.uk
Include a telephone number

- we can't use your photo without it.

Never put yourself at risk to take a photo.

Make sure your file is smaller than 10MB.
You must ask your parent, teacher or guardian for permission before you send us a picture or video.
We may show your picture or video on our website or in our TV bulletins. We'll show your first name and which town you're from - but we won't use your details for anything else.