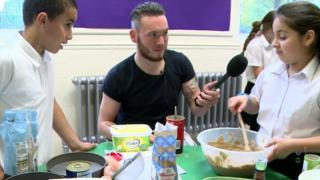 Kids hold their own Bake Off 'final'
Martin, Newsround's very own Mary Berry, has been to meet a group of school kids holding their very own Great British Bake Off final ahead of the real thing, tonight.
They're getting creative with chocolate and chilli, making a mess with meringue, and cooking up some amazing cupcakes.
But what will Martin choose as his favourite bake?
Watch to find out.