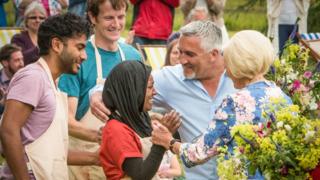 BBC / love productions
Nadiya has won this year's Great British Bake Off.
She fought off competition from Ian and Tamal in the signature, technical and showstopper bakes to come out on top.
Nadiya impressed the judges with her iced buns and raspberry millefeuille.
But it was her wedding cake showstopper, complete with jewels from her own wedding day, that sealed the deal.
Ian failed to rise to the challenge when he forgot to add sugar to the dough of his spiced buns in the signature bake.
And Tamal struggled when the creme patissiere for his toffee and marmalade iced buns didn't set in time.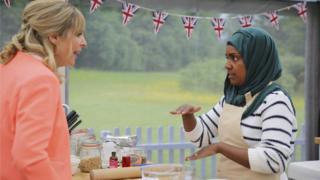 Nadiya said: "Bizarrely, I found the final was one of the least scariest [rounds] and I really enjoyed the experience the most out of all the filming days.
"I felt at that stage that I could do really well or really badly, I had nothing to lose, so I went into the tent and gave it everything I could.
"The showstopper was a celebration cake, and as I never had my own wedding cake I wanted a proper iced wedding cake."
The three finalists were asked to make iced buns for the signature bake and raspberry millefeuille for the technical challenge.
For the showstopper, the bakers were tasked with creating a classic British cake with at least three tiers.