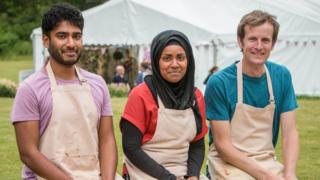 BBC/ Love productions
Just three bakes remain for Ian, Nadiya and Tamal in the GBBO tent.
They've beaten off the competition to claim their place in the 2015 Bake Off final.
But rising to the top spot won't be easy - they'll have to master their final signature, technical and showstopper bakes to impress judges Mary and Paul.
Here's what you need to know about this year's finalists:
Scroll down for chat
Ian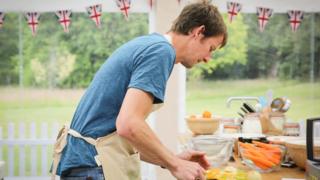 BBC/ Love productions
Ian's a travel photographer and lives in Cambridgeshire.
He started baking bread for his family six years ago and will be bringing his cool, calm creativity to the tent.
Best bakes: Ian's beautiful charlotte russe shaped to look like Queen Victoria's crown blew the judges away. We also loved his 'dessert island' ice cream roll, complete with little dark chocolate trees.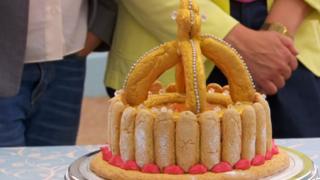 Worst bakes: In pastry week Ian failed to impress the judges with his vol-au-vents. They said they were overbaked and Mary and Paul didn't enjoy his flavour combinations.
Star Baker: Ian's been crowned Star Baker three times - in weeks two, three and four.
Nadiya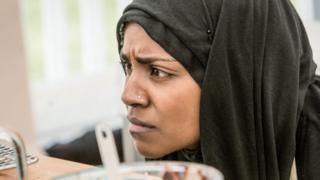 BBC / love productions
Nadiya lives in Leeds and has been baking for 10 years.
She enjoys creating masterpieces for family occasions and has a flair for unique flavours and designs.
Best bakes: Nadiya's amazing fizzy pop cheesecakes or her incredible blue peacock showstopper - Paul called it a "work of art" and Mary said it showed "a lot of skill".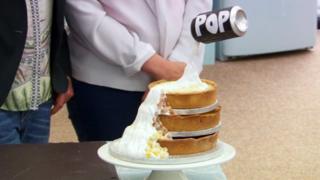 BBC/love productions
Worst bakes: Nadiya came last in the chocolate soufflé technical and did not enjoy the challenge. Mary and Paul felt she'd failed to mix her ingredients together properly.
Star Baker: Nadiya has been awarded Star Baker three times - including last week's semi-final.
Tamal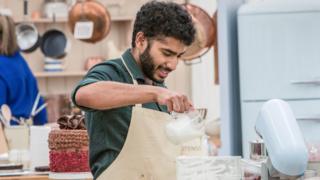 BBC/ Love productions
Tamal works in a hospital as a trainee anaesthetist. He was taught to bake by his older sister who asked him to make her wedding cake.
He'll be sure to produce his masterpieces with perfection and precision in the final.
Best bakes: Tamal's mango, hazelnut and rosemary trio of cheesecakes or his fantastic choux pastry tower - Mary called it "beautifully detailed" while Paul said that the flavours were "lovely and sharp".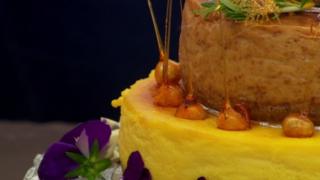 BBC / love productions
Worst bakes: Tamal presented his biscuit box to the judges in a flat pile, after running out of time in the 'Showstopper Challenge'.
Star baker: Tamal was named Star Baker for the first time in week 7.
Comments
I think that out of the three bakers Tamal will win, but all three of them are amazing! I love watching the Great British Bake off though, it makes me hungry and I always want to eat biscuits.
Sofia, London, England
Lauren thinks that Nadiya should win because she's creative.
Laonie thinks that Nadiya should win because she was really nice and she did some tasty bakes.
Dougie thinks Tamal should win because his cakes are based on good ideas.
Lexie thinks Nadiya should win because her face looks like she's ready to create whatever is in her mind.
Riley thinks Tamal should win because he has made some really interesting bakes that have worked.
Bethan likes Ian because all his creations are nice and they can be interesting looking.
Year 3, Devon, England
The girls and Blair think Nadiya will win. The boys and Georgia think Tamal will win
Year 5, Linlithgow, Scotland
The boys and girls think that Nadiya should win the Bake Off. We think that she does lots of amazing flavours and is very talented.
Class 7/6, Greenock, Scotland
We would like to wish all the finalists good luck. The Bake Off has inspired our Numeracy & Mathematics lessons, our Literacy & English lessons and of course our Health and Wellbeing lessons. We have taken a vote and would like Tamal to win because he makes creative, unique cakes with exotic flavours. His recipes are reliable (one of us has tried them all). We love his ideas and techniques. We think he is a lovely person because he is always smiling and he cares for other people. It was so good of him to make his sister's wedding cake. Go Tamal!
Class 4a, Paisley, Scotland
I think Nadia should win because she is very brave and an amazing cook
Lucy, Isle of Man,
We watched your Newsround on catch up in class this morning. Here are who we would like to win The Great British Bake Off:
William wants Ian to win because he makes cool stuff.
Dale wants Ian to win because he makes fancy stuff.
Jack wants Ian to win because he liked when he froze the can.
Class 6/7, Kilmarnock, Scotland
This morning we watched Newsround, and we voted for our favourite Bake Off contestant. The person with the most votes in our form was Tamal!
Year 7, Kingswinford, England
I want Ian to win the Bake Off! His chocolate well is my favourite bake!
Eddie, Cheshire, England
I think Nadiya or Ian will win. My favourite bake was Nadiya's peacock.
Imogen, UK
I think Nadiya should win because her ideas are imaginative.
Anita, Essex, England
I think it should be Nadiya because she has done really well to get to the final.
Jessica, London, England
I think Tamal should win Bake Off because he always has good ideas for his bakes.
Lottie, Sudbury, England