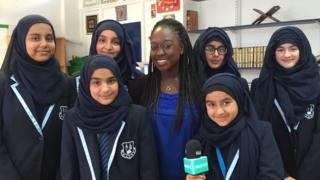 GBBO's Nadiya an 'inspiration' to girls
The Great British Bake Off final takes place tonight.
In the running for the prize is Nadiya, one of the few women on TV who wears the hijab.
A hijab is a headscarf sometimes worn by Muslim girls and women.
As Nadiya prepares for the Bake Off final, Ayshah's been to speak to young Muslim girls about what it's like to see someone who wears the hijab in such a high profile show.