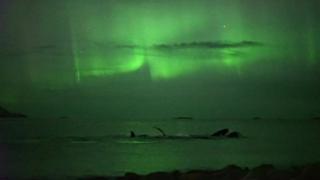 Whales play under the Northern Lights
A pod of whales have been filmed playing under the Northern Lights.
The dazzling light show is caused by the interaction of charged particles and the Earth's magnetic field and atmosphere.
Photographer Harald Albrigsten captured the beautiful creatures swimming near Whale Island, off the coast of Tromso in Norway.
Video courtesy of Harald Albrigtsen