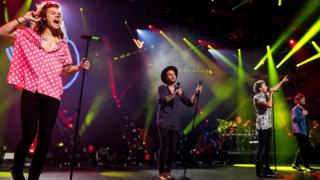 AP
One Direction have teamed up with a host of other stars to write a children's book for Children in Need.
They join celebrities including Kylie Minogue, Sir Paul McCartney, Wayne and Coleen Rooney and Denise Van Outen to write a book called: The Curious Tale Of Fi-Rex.
The story follows a little girl who is half-human and half-­dinosaur.
And One Direction are appearing in the story as a band of frogs called - wait for it - Pond Direction.
Each celebrity was invited to pen a page of the book, having only seen the last line of the previous page.
All proceeds from sales of the book are going to Children In Need.