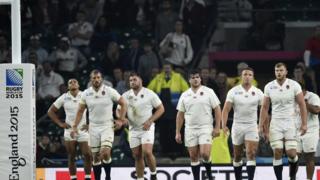 Getty Images
England have crashed out of the Rugby World Cup after just three matches and we want to know what you think about it.
They lost to Australia on Saturday in a game they had to win and have become the first host nation ever not to make it out of the group stages of the tournament.
But the bad news for England is good news for Wales as that result guarantees them a place in the quarter finals.
We asked you what you thought of the result...
This chat is now closed, thanks for sending in your comments.
Your comments
England were terrible, they have embarrassed the whole country.
Tom, 11, Warwicks
I feel very disappointed that England, the host, are out. It is such a shame.
Rose, 11, Bristol