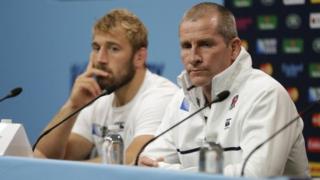 England out of Rugby World Cup
England are out of the Rugby World Cup, and have become the first host nation, in the history of the tournament, to not make it into the group stages.
The team suffered a crushing 33-13 loss to Australia last night at Twickenham stadium.
England Captain Chris Robshaw said: "We feel we let the country down today. We apologise to them"
Head Coach Stuart Lancaster said: "During the last three years we've put in some pretty good performances, but on the day Australia were better", "And that's what World Cups are all about - on the day."
Victory for the Wallabies, means that they will be joined by Wales in the quarter finals from Pool A.
England will take on Uruguay in their final group game on Saturday, 10 October.