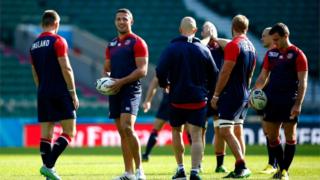 ALLSPORT/GETTY
It's a massive weekend for the home nations in the Rugby World Cup and we want your predictions about what's going to happen.
England play Australia knowing a loss would knock them out of the tournament. But, if that happens, Wales would be guaranteed a place in the quarter finals.
Scotland can book their place in the knock outs if they pull off a shock against two time Champions South Africa.
So, we're asked you what you think will happen and which home nation team you think will go the furthest?
This chat page is now closed, thanks for sending in your comments.
Your comments
I'd like to England to win the World Cup, and make it through this next round.
James, 15, Ayr, Scotland
Wales are going to win!
Harrison, 11, North Wales
Scotland are going to win!
Lucy, 11, Edinburgh, Scotland