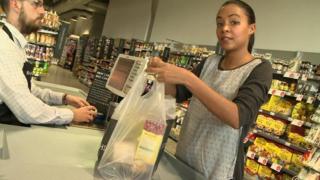 From Monday shoppers in England will be asked to pay 5p for every new plastic bag they use.
The charge is being introduced to try to cut down on waste and litter caused by people throwing away old bags.
Now, in most shops in England, if you want a plastic bag for your shopping you'll have to pay.
Scotland, Northern Ireland and Wales already charge for bags.
Do you think the 5p charge a good idea?
YOUR COMMENTS:
I think it's a good idea because I don't want to live in a world littered with plastic bags. And it's working!
Emma, Scotland
I think it is a good idea because it will encourage people to reuse their bags instead of having to buy new ones when they go shopping.
Jessica, London, England
I don't think they should charge 5 pence because not only are they earning money for shopping items but also they are making money from the bags. It's just not right!
Petal, Ringwood, England
I live in Wales and paying for bags is working here, so why not in England.
Hana, Pwllheli, Wales

Do you think the new charge is a good idea?

Do you think it will help cut down waste?

Will it encourage people to reuse their old bags?
Send your comments to newsroundcomments@bbc.co.uk
You must ask your parent, teacher or guardian for permission before you send us a comment.
We may show your comment on our website or in our TV bulletins. We'll show your first name and which town you're from - but we won't use your details for anything else.