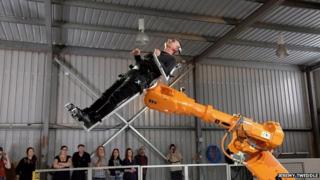 Man takes a ride on giant robot arm
A university professor in Australia has strapped himself onto a giant robot arm for 30 minutes to explain his new idea.
Professor Stelios Arcadiou, who is nicknamed 'the nutty professor', decided to ride the arm to show how humans and robots can work together.
He said he was a bit sore afterwards but otherwise fine.
Watch this clip of him being flung around on the robot arm.