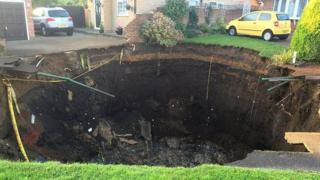 Sinkhole families told to stay away
People living on a street where a giant sinkhole appeared have been told it could be weeks before they're allowed to go back into their homes.
The hole opened up in St Albans, Hertfordshire, on Thursday and safety experts are now trying to figure out what caused it.
It's 66ft or 20 metres in diameter, and about 10 metres deep, and spread across a front garden and driveway on the street.
People on the street said they heard a crash before the huge crater appeared.
Jenny's been finding out more.