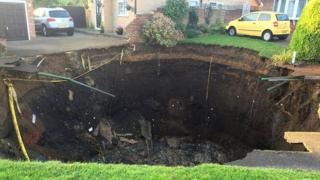 Hertfordshire Fire and Rescue Service
A massive sinkhole has opened up in the middle of a street in St Albans, Hertfordshire, forcing some people to leave their homes overnight.
The 66ft (20 metre) diameter hole spread across a front garden and driveway on the street, and is about 33ft (10 metres) deep.
The local Council say five homes had to be evacuated and 20 people were taken to a centre set up nearby.
People on the street said they heard a crash before the huge crater appeared.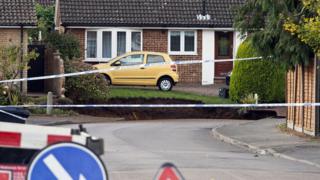 South Beds News Agency
Engineers are currently on the street to decide how best to fill the crater in.
No-one has been injured and no homes were damaged.
Find out more about what causes sinkholes by looking at our special guide.