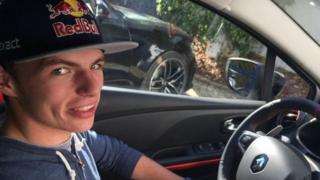 Max Verstappen
He is Formula 1's youngest ever driver and in charge of a car that can reach over 200 miles per hour.
But the Dutchman Max Verstappen was not allowed to drive a car legally on his own in the Netherlands.
That all changed on Wednesday when the racing driver turned 18 and passed his driving test at the first attempt.
Despite having competed in 14 grands prix since his debut in Australia in March, Verstappen admitted to feeling the pressure during his test.
"It's a relief," said Max. who had only started driving lessons a week ago. "I was a bit nervous to make mistakes, but the exam went well."