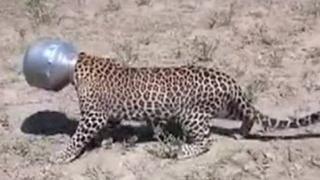 Thirsty leopard gets head stuck in pot
An unlucky leopard got its head stuck in a metal pot after wandering into a village in India on Wednesday.
Local media reported that the leopard was thirsty and had become stuck after trying to drink water from the pot.
It took forest officials more than six hours to temporarily put the leopard to sleep and then free it from the pot.
The animal was later released back into the wild.