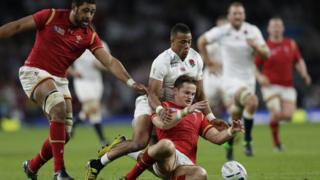 Reuters
The timing of this years Rugby World Cup is one of the main reasons for the high number of injuries, a top sports doctor has claimed.
Wales have seen six squad members ruled out since announcing their squad while England, Scotland, South Africa and Australia have all lost key players.
Ireland will also be without captain Paul O'Connell and Peter O'Mahoney as they go into the quarter-final stages.
Dr Rick Seah, from the Institute of Sport, Exercise and Health, has told Newsround that having the tournament in September and October, plus the increased size of players, is causing more injuries than previous tournaments.
Are there more injuries this World Cup?
At the moment, it's hard to say whether there have been more injuries during this World Cup, as we'd have to wait until it had finished to find out.
However, Newsround compared the injuries suffered by the home nations squads this time around to those in the 2011 World Cup.
From the point when the final squads were announced nine home nations players have already been ruled out of this year's tournament compared to only three in the whole whole of the 2011 World Cup.
Why are they getting injured?
Newsround spoke to Dr Rick Seah who works at the Institute of Sport, Exercise and Health. He said that there are many reasons there have been so many injuries during this World Cup.
Dr Seah told us that because the World Cup is at the end of the rugby season and so the players are more prone to getting injured as their bodies are tired.
He said: "The players are bigger and faster than they used to be which means that they are more likely to get injured while playing.
Added to this is the adrenalin and excitement that the players feel during the World Cup, which means they are more likely to play aggressively.