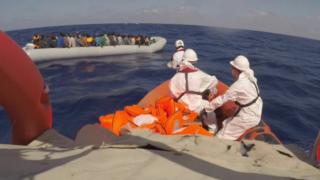 On board a migrant rescue boat
This year more than 250,000 people have crossed the Mediterranean sea from Africa to Europe, in search of a better life.
Many of them are escaping war and poverty, but it's a very dangerous journey and some people don't survive.
One of the ships patrolling the sea, looking for boats carrying migrants, is called Dignity One.
It's run by a charity and gives care and help to people stranded at sea.
The BBC's Ben Mundy joined the ship as it left the small island of Malta in Europe, heading towards the coast of Libya in North Africa.