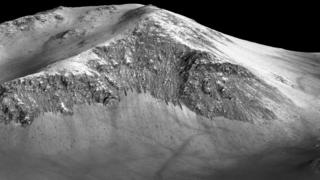 NASA/JPL/University of Arizona
Space scientists have announced an exciting discovery that could help them get closer to answering the question of whether there is life on Mars.
The US space agency Nasa has released high-tech satellite pictures which, they say, shows evidence of flowing water on the red planet.
It's big news because, if it's confirmed, it could prove there is the potential for life there.
Researchers have seen small streaks that change in different weather.
What does it all mean?
Measuring less than five metres wide these streaks appear during warm seasons and then fade when it get colder.
Water is a vital part of life on Earth and this discovery could make it easier for humans to explore Mars further.
It could also mean that the planet could be suitable for certain types of life.
Further exploration
Researchers have also examined four different locations on Mars and found salt minerals which are normally made in salty water.
They think the salts have been left by water flowing down the sides of hills.
The discovery has come using data gathered by Nasa's Mars Reconnaissance Orbiter spacecraft.
Dr Joe Michalski, a Mars expert from the Natural History museum in London, said: "These results provide strong evidence that salty water flows on the Martian surface, even today."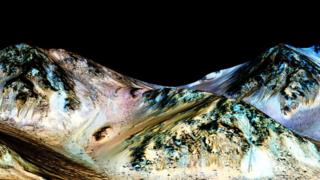 NASA/JPL/University of Arizona
Scientists had thought that Mars used to have rivers and oceans billions of years ago but changes in the atmosphere has made it much colder.
It's thought some of the water is locked in polar icecaps and possibly underground.