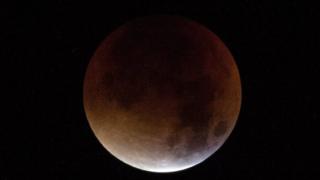 EPA
People around the world have enjoyed a rare event, as a lunar eclipse happened at the same time as a "supermoon".
The eclipse - which made the Moon appear red - has been seen in North America, South America, West Africa and Western Europe.
We're going to be finding out more about the spectacular event on Newsround, when we'll be putting your questions to Space expert Sarah Crowther.
This page is now closed. Thank you for your questions.