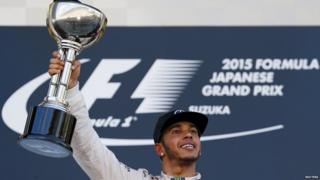 Reuters
Lewis Hamilton has won the Formula 1 Japanese Grand Prix.
Hamilton started in second place on the grid, but stormed past his Mercedes team-mate Nico Rosberg early on and never looked back.
Rosberg fell back after being forced wide by Hamilton as the team-mates battled in the first two corners.
I had to avoid a collision
Rosberg said: "It got really close on the exit of Turn Two and I had to back out of it there and that lost me the race.
"I haven't seen it on TV. For sure it was close. I had to avoid a collision. But it is difficult to comment now."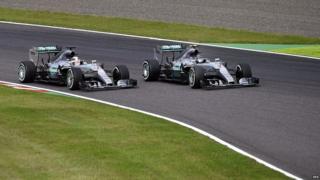 EPA
Hamilton defended his move saying: "I don't really feel it was that close. The inside line is the inside line, so it was my corner.
"I can imagine Nico was running out of road but that's what happens when you're on the outside."
The win is Lewis Hamilton's eighth Grand Prix victory of the season.