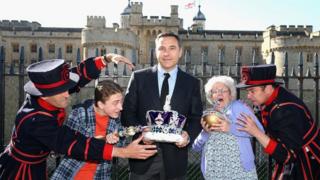 Walliams gran behind Gangsta Granny
The children's Author, David Walliams, says his own Grandma inspired him to write his book Gangsta Granny.
The character in his book used to be an international jewel thief and has always wanted to steal the Crown Jewels.
Her house smells of cabbage, and she likes to play scrabble.
He says his own granny was funny, and liked to tell him stories about when she was a young girl.
The book has already been made into a TV programme and now it's being made into a theatre play.