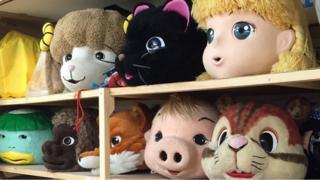 How do you become a Japanese mascot?
Mascots are big business in Japan.
People dress up in big furry, animal suits and dance.
There are mascots for national parks, trains and well known landmarks, like the Tokyo Tower.
The mascots enjoy celebrity status across the country and are photographed by thousands of people whenever they're on stage.
There is even a school in Tokyo where you can learn how to become one.
The Choko Group mascots school in Japan was founded 20 years ago, by Choko Oohira, who wanted to make sure only the best mascots could entertain children.
Many have long, successful careers for their whole lives.
Leah chose to become a kappa. A mythical monster found near ponds and rivers.
They're very mischievous!
Watch Leah try out her dancing skills.