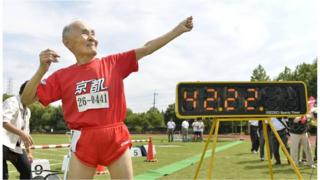 105 year old runs 100m in 42 seconds
This is 'Golden Bolt'.
Hidekichi Miyazaki, is 105 years old and he's just broken his own record as the world's oldest competitive sprinter.
He ran the 100 metres in 42.22 seconds at the Kyoto Masters.
He is known as the "Golden Bolt" for copying the pose struck by Usain Bolt.
But he did miss his personal best of 34.10. That record was set when he was 103.