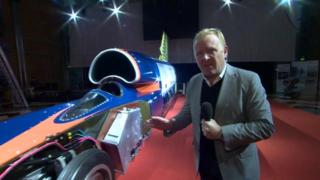 Super-Sonic Bloodhound car unveiled
Could this become the world's fastest car?
Well after years of planning the Bloodhound Super-Sonic car is almost finished.
Bloodhound has been built to smash the current land speed record of 763mph (1,228km/h) set by another British car, Thrust SSC, in 1997.
It's been unveiled for the first time in London and the BBC's John Maguire has been taking a look...