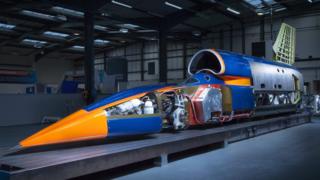 BLOODHOUND SSC/STEFAN MARJORAM
Could this become the world's fastest car?
Well after years of planning the Super-Sonic Bloodhound's almost finished.
Bloodhound's been built to smash the current land speed record of 763 miles per hour (1,228km/h) set by another British car, Thrust SSC, in 1997.
It's been unveiled for the first time in London.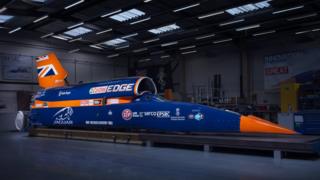 BLOODHOUND SSC/STEFAN MARJORAM
The new machine's due to start running next year on a special track that's been prepared for it in South Africa.
The aim eventually is to push the record above 1,000mph (1,610km/h).
It's taken eight years of research, design and manufacturing to get to this stage.
But, Bloodhound isn't yet fitted with its rocket system - one of three power units in the car - and is still missing key parts like air brakes.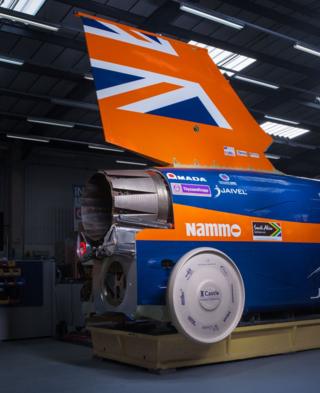 BLOODHOUND SSC/STEFAN MARJORAM
Around 8,000 people are expected to go and see it over the next three days.
One side of the car has been prepared with a panel removed, to show the vehicle's inner workings.
Visitors will also get to see the different types of wheel it will be using - solid aluminium discs for its record attempts.
'Almost ready to go racing'
"It's amazing to see it like this, away from the workshop and almost ready to go racing," said chief engineer Mark Chapman.
"I can't wait to see people's reaction, to see the look on their faces."