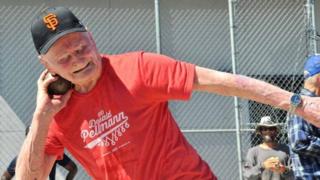 100-year-old man sets five records
100-year-old Don Pellman has set five world records in his age group at the San Diego Senior Olympics in America.
He is now the record holder in the long and high jump, the shot-put, discus and 100 metres sprint.
Pellman ran his 100 metres in 26.99 seconds.
He also became the first person over the age of 100 to clear a bar in the high jump, eventually reaching 0.90 metres.
Pictures courtesy of Ken Stone/TimesOfSanDiego.com