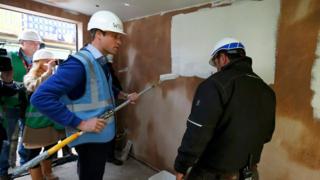 Princes show off their building skills
Princes William and Harry have joined forces with the BBC's DIY SOS team to help turn a run down street in Manchester into homes for people who used to be in the armed forces.
Prince William showed off his artistic flair as he painted the kitchen of one of the 62 houses, whilst Harry helped out laying paving stones in the garden.
The Princes are hoping to highlight the challenges that people who serve in the Army, Royal Navy and Royal Air Force face when they leave.
The special episode of DIY SOS will air in October.