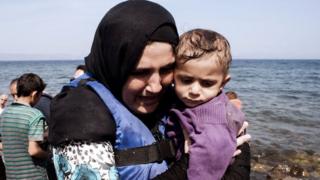 Drone video captures migrants arriving in Greece
The moment migrants arrive in Greece after a dangerous journey by boat has been captured by a drone.
The video shows just one group of many who have chosen to come to Europe in the hope of a better life.
Half a million refugees have come to Europe by sea this year, according to the United Nations.
Many are fleeing war and poverty in the Middle East and in Africa.
On Tuesday European leaders made a deal to all help move 120,000 refugees to lots of different European countries, but not all of the countries were happy about it.
Watch this video of people arriving by sea in Europe.