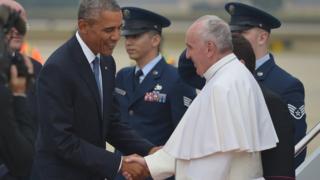 Pope Francis visits US for first time
Pope Francis, the head of the Roman Catholic Church, arrived in the United States on Tuesday afternoon and was greeted by President Obama and his family when he got off his plane.
He is expected to greet millions of American Catholics and talk about tricky issues like climate change during his first ever visit to the the country.
The Pope will visit the US capital Washington DC, New York and Philadelphia.