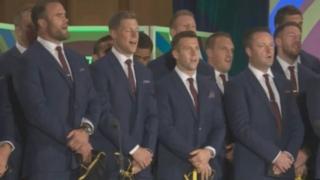 Welsh team sing to Prince William
Some of the stars of Wales' Rugby World Cup squad have been singing in front of Prince William at a special welcome ceremony for the tournament.
The squad belted out a traditional Welsh song called 'Down by the Sea', or 'Lawr Ar Lan y Môr' in Welsh.
The Duke of Cambridge, Prince William, who is also the Vice Royal Patron of the Welsh Rugby Union, was at the ceremony, and seemed to enjoy the performance.
Although the Duke joked that he was glad Wales "played rugby better than they sing".
The squad have travelled to London in the build up to Saturday's game against England at Twickenham.