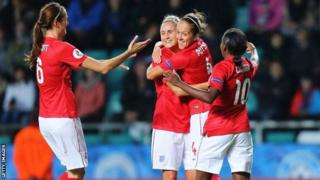 Getty Images
England women's team won 8-0 against Estonia, in their first game since coming third at the World Cup.
The match was the start of the qualifying rounds for the next international tournament, Euro 2017, which will be held in the Netherlands.
Arsenal striker Danielle Carter made her debut for the Lionesses and scored a hat-trick.
Fran Kirby, one of the stars of the World Cup, also scored twice.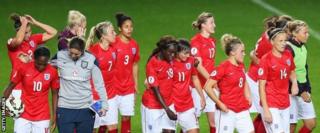 Getty Images
England are in a group with Serbia, Belgium, Bosnia-Herzegovina, and Estonia.
Their next qualifier is against Bosnia-Herzegovina on 29 November at home.
England are the highest ranked team in the group and are expected to easily qualify for the tournament.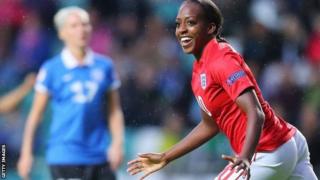 Getty Images
England manager Mark Sampson: "We produced a good performance, we were balanced and controlled and we scored some good goals.
"It's always hard after a tournament to move away from those hangovers and we brought in some new faces to bring in some enthusiasm.
"You have to focus on the short term and getting three points, which we did, but we want to make sure that come June 2017 we're still going to be competitive."
Danielle Carter, scorer of a debut hat-trick: "I couldn't have dreamt of a better ending to that game on my first cap.
"It's just unbelievable - I can't put into words what it felt like.
"I'm definitely going home with the match ball. I'm going to get it signed and framed."