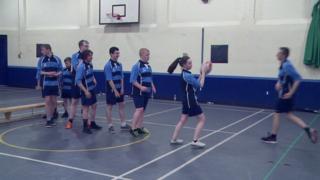 Hopes Scotland can beat Japan in Rugby World Cup
As the Scotland team prepares for their first Rugby World Cup match, against Japan on Wednesday, Newsround went to a school in Glasgow to see how pupils there have taken up the game.
The school didn't have a rugby team at all until the PE teacher decided to teach them a new sport.
The pupils say it's given them confidence, helped them work together better as a team and has taught them many things that they can't learn in a classroom.
They say they hope the Scotland team can win tomorrow's match and sent them a good luck message.
Ayshah went to see them practising.