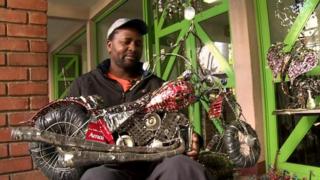 The man who makes art from rubbish
Most of us throw away our rubbish, but this man in South Africa takes ordinary household waste and turns it into amazing pieces of art.
Ishumael Mhike cuts up things like old cans and transforms them.
Each piece can take days to make.
He left Cape Town after he became paralysed and now uses a wheelchair.
He says he loves his business, turning rubbish into art and now sells it, where he lives in Zimbabwe.
Take a look at some of his incredible work - showing animals and cars.