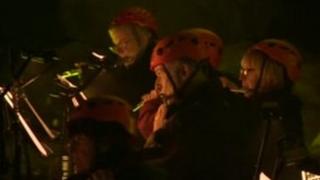 Orchestra performs down a mine
A 44-piece orchestra has played a special concert, one hundred metres underneath the ground.
The Cobweb Orchestra played for an hour at the Honister Slate Mine, which is deep inside a mountain in the Lake District.
The musicians had to swap their bow ties for hard hats to keep them safe.
An audience of 90 people was allowed inside the Fiddlers Cave.
There was also a special light display as well.
Watch them performing underground.