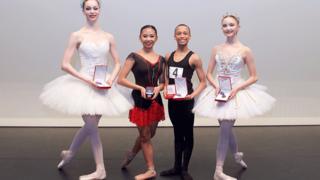 Elliot Franks/RAD
A 15 year old South African dancer, Leroy Mokgatle, has won the gold medal at the prestigious Genee International Ballet Competition.
Leroy Mokgatle also won the Margot Fonteyn Audience Award.
Dancers from 16 countries took part in this year's competition.
It was held over three days leading up to the final.
The silver medal was won by Lania Atkins from Australia, and the bronze went to Makensie Henson.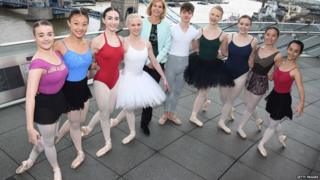 Getty Images
For the first time ever, nine dancers were given financial help to take part, through the Darcey Bussell Genee Bursary.
It helps those who otherwise could not afford to attend.
The award for the best "dancer's own" work, went to another 15 year old, Jana Baldovino, from New Zealand.
Past Genee medallists have gone on to dance for the Royal Ballet, the American Ballet Theatre and the English National Ballet.
Next year's competition will be held at the Sydney Opera House in Australia.