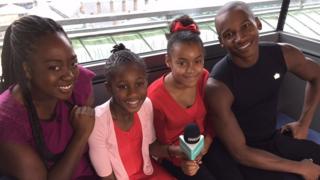 'Not enough black ballet dancers'
Misty Copeland is one of the World's top ballet stars and recently became the first African-American woman to be named a principal in the 75-year history of American Ballet Theatre.
But the dancer says she is worried there are not more black dancers like her around the world.
Newsround asked some of the top ballet schools in the country about how many black dancers they had:
The Central School of Ballet said they wouldn't give us any figures, but it was reported in 2012 that 4 out of 110 dancers were from a black background.
Ayshah's been to the Royal Ballet in London to meet two young dancers and teacher Eric Underwood to find out what more can be done to encourage kids from different backgrounds to get involved in ballet.